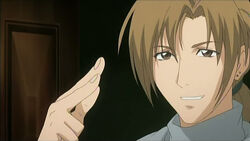 nihongo|Houshou Takigawa|滝川 法生|Takigawa Hōshō

anime voices|Kenji Hamada|Travis Willingham
Born: January 22
Blood Type: O
Height: 185 CM
A 25 year old hakkaisou, a Buddhist monk who has left his position, who studied in Mt. Koya. He claims that he left Mt. Koya because they did not allow music CDs. His full-time profession is a bass musician in a popular band. He usually acts as a brotherly figure to Mai, but does ask Mai out on a date when she becomes jealous of Naru going on a date with Masako at the end of episode 11. He is one of the more powerful and effective members of the group and acts as leader in Naru's absence, as seen in the Cursed House File. The other members of SPR refer to him casually as "Bou-san" (Monk-san).
It is revealed in the novels that he actually has a driver's license but has never used it, not even once.