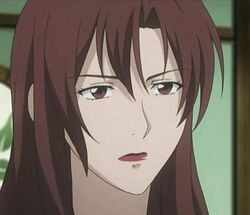 nihongo|Ayako Matsuzaki|松崎 綾子|Matsuzaki Ayako

anime voices|Masami Suzuki|Colleen Clinkenbeard
Born: June 7
Blood Type: B
Height: 167 CM
A 23 year old outspoken, self-styled Shinto miko, or priestess, because she was not raised in a shrine and is actually the daughter of a wealthy doctor who owns a community hospital. She is confident and proud of her abilities, though her attempts to demonstrate them have almost always fallen short. To her credit, she did teach Mai some defensive sutras, particularly the Shinto Kuji exorcism incantation, "Rin pyou tou sha kai jin retsu sai zen". It is later revealed that she is actually just as strong as Bou-san, but apparently only works well under certain conditions and is capable of hearing the spirits of trees. A running joke is that at the beginning of a new case, Ayako usually claims the incident is caused by an elemental earth spirit. She has also shown an interest in Naru, though he frequently rebuffs her with dry remarks concerning her age. Later in the story, she develops somewhat of an 'older sister' relationship to Mai.